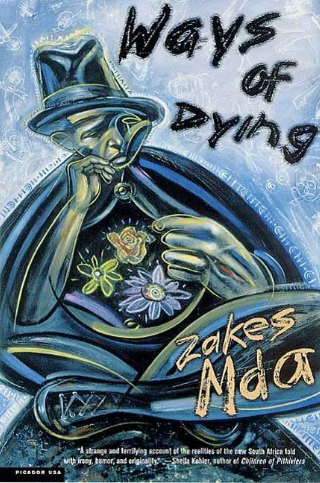 14 Apr

Book Review: Ways of Dying

           Title: Ways of Dying

Author: Zakes Mda

Published: Picador, 1995

I judged this book by the cover and the title; a horrifying cover and a seemingly dark-humorous title (they were meant for each other :-)).

You might need to start here before we get into the story;
"Just like back in the village, we live our lives together as one. We know everything about everybody. We even know things that happen when we are not there; things that happen behind people's closed doors deep in the middle of the night. We are the all-seeing eye of the village gossip. When in our orature the storyteller begins the story, 'They say it once happened…, we are the 'they'. No individual owns any story. The community is the owner of the story, and it can tell it the way it deems it fit. We would not be needing to justify the communal voice that tells this story if you had not wondered how we became so omniscient in the affairs of Toloki and Noria."
The 'they' say Toloki, the now self-christened 'professional mourner' is not the type who forgives and forgets but you would never meet a kinder person in this city. The city has treated him with immense condensation but he still stays and loves it. But surely, you do not except Toloki to forgive Nefolovhodwe, the man from his village who makes it big in the city. Would you forgive someone if they told you as Nefolovhodwe told Toloki; "Your face is a constant reminder that we are all going to die one day"?
While in his funeral business endeavours, Toloki meets Noria at the latter's son's funeral. Noria is a hometown young woman with whom Toloki creates a bond that was non-existent in the village. Their lives, as the flashback unravels, seem more intertwined than it appears on the surface. In the village, Noria 'bewitched' Toloki's father, Jwara that when she sang for him, he was inspired to create beautiful figurines. If Noria didn't sing for him – for she had discovered that she would earn favours from other men – he didn't create and took out his frustration on Toloki and his mother.
When Toloki runs away to the unnamed post-Apartheid new South African city, with no money or job, he becomes homeless. Noria, too, gets married, but her marriage soon collapses and her son dies. The enterprising Toloki plunges into the funeral business. His business strategy is to scale his reputation (which he has already done) and then start charging for his mourning services. But Toloki is not just in it for the money, he becomes a funeral addict. He says to Noria, "tomorrow, I must find a funeral. My body needs to mourn."
Toloki and Noria help each other wade through their new life in the city and recover what humans lose in the face of untold poverty, crime, violence, and ethnic unrest.
"You are a beautiful person, Toloki. That is why I want you to teach me how to live. And how to forgive."

"You are the one who will teach me, Noria."
In his dark humor, Mda tales the story of a people afflicted by brutality; a people broken but not beyond forgiveness; a people with a will to live even though living isn't easy.
What struck me about the book is Noria and Toloki's optimistic nature, their generosity of spirit, their power to transcend whatever misfortune that afflicts them and their ability to create happiness by their rules – almost stretching to superhuman abilities. For this, though, the characters might not be entirely convincing.
Also, I won't forget this:
'Death lives with us every day. Indeed our ways of dying are our ways of living. Or should I say our ways of living are our ways of dying?'
Definitely a worthy read! Over to you.
Vera Omwocha Dinda is a published author and editor. See more about her at veraomwocha.com